In this blog you will find the 10 Best WordPress Ecommerce plugins for 2019.
You want to start an ecommerce website of your own, there are many big platforms which gives the functionality of running an Ecommerce websites like Shopify, Bigcommerce. WordPress is one of those platforms and it's very popular and with some plugins it can turn your normal blog website to a fully functional e-commerce website. I have created a list of 10 Best WordPress Ecommerce plugins for 2019.
Installing plugins is an easy task but trying those out and checking every one of them and comparing which one is working and which is not can be a very confusing and tiring process.
There are plugins which helps with creating opportunities, improve design and functionalities, tools that are productive and can help improve user experiences, integrate payment gateway, the after sales options, can make your store secure, automate processes, save time and you can focus on major business planning and decisions making, These plugins can create more business opportunities and growth. 
You may also like:
4 Reasons To Prefer WordPress For Ecommerce Site
List Of 10 Best Shopping Cart WordPress Plugins
WooCommerce
It is the most popular E-Commerce plugin with over 5 million active installations. It has lots of add-ons and themes available. Automattic has developed and supported WooCommerce, the creators of Jetpack and WordPress.com.
Building an e-commerce website with WooCommerce is easy and quick. 

There are lots of free and paid add-ons available that you can use to enhance the functionalities of your website.

You need not be an expert to do the customizations of your store. It's easy and simple to use.

You can sell both physical and digital goods with WooCommerce.

It offers many functions for the product pages.

With paid extensions, you can offer bookings, subscriptions, memberships, and dynamic pricing.
WooCommerce MailChimp Newsletter Discount
WooCommerce MailChimp Newsletter Discount is an add-on for WooCommerce which will help you gain your visitors' email address just by giving them a discount. In this way, you will increase your subscribers' list and chances are that the visitor may convert into a potential customer after receiving the discount in their email.
You can create easy pop-up forms.

Easy to integrate with MailChimp

Exit-intent pop-up available

Mobile Friendly

The plugin automatically creates coupons, so you don't have to worry about that.

Desktop notification available for the admin to see when a user makes subscribes to the newsletter
WPEasyCart
It's a very simple and easy-to-use payment gateway plugin made with keeping in mind the small business owners who want to run a beautiful e-commerce store.
It has an easy sync option with Quickbooks and email marketing integration with MailChimp.

It gives 30+ payment gateways integration options

You can sell anything with this, whether it's a digital good, physical items or subscriptions, etc.

Free plan available with unlimited products and several tools for things like taxes, product variants, and selling videos.

It has the simplest interfaces for small business owners who can start their site quickly and spend more time with their day-to-day.
AfterShip
You can automatically add Tracking Number and Courier fields to your admin panel. After you fulfill an order, simply enter the tracking number and select a courier at WooCommerce, it will display the same info at the customer's order history page.
Easy to install and use.

supports over 550+ carriers worldwide

Allows inserting the AfterShip Track Button to order history page so that the customers can track the latest order status in one click.

The free account comes with a dashboard to monitor the current statuses of all shipments.

You can also filter your shipments by dates, statuses, couriers, and destinations.
OneSignal
OneSignal is a popular Push Notification plugin that allows you to send push notifications to users and they can come back to your website.
It supports Chrome (Desktop & Android), Safari (Mac OS X), Microsoft Edge (Desktop & Android), Opera (Desktop & Android) and Firefox (Desktop & Android) on both HTTP and HTTPS sites.

You can A/B test your messages and check which versions got better results.

You can configure this plugin to send users notifications when you post something new on your website, Also, you can send reminders to people that haven't visited your site in a while. 

It can schedule messages to be delivered, based on previous times readers visited your site or their time zone.

Real-Time Analytics: You can see your notifications delivered and clicks in real-time.
Yoast SEO
This is another popular and one of my favorite plugin for WordPress that helps you optimize your website to improve your ranking on search engine result pages. It is one of the best wordpress e-commerce plugins that you can install on your website.
Always updated with the latest algorithm changes from search engines.

Helps you with keyword optimizations, link structure, prevents you from duplicating your content, shows you a preview of your page on search engine result pages, and lots more.

It comes with free and paid versions.

Handles all the technical stuff like search bots, sitemap.xml, faster indexing.
UpdraftPlus
Backing up your data is very important, and for an E-Commerce website, it's double important. Updraftplus is one of the most trusted and used backup plugin in WordPress, It has been downloaded over 2 Million active installs.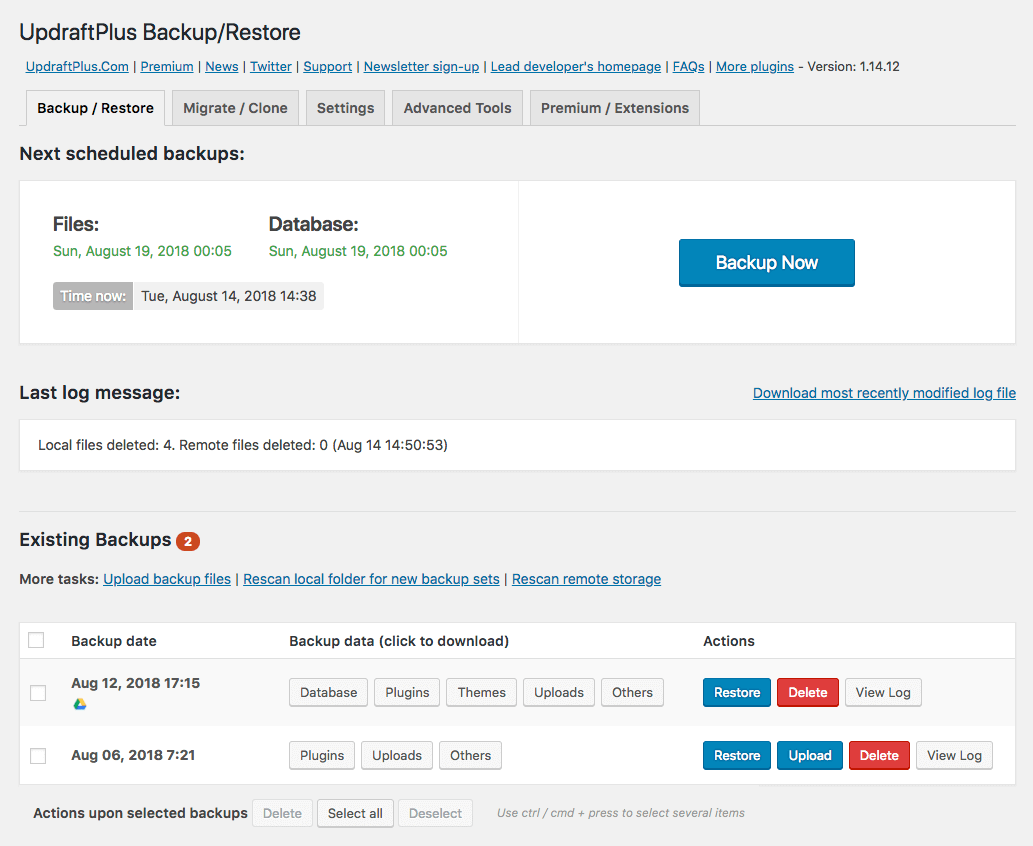 Restores and backing up

Backs up to more cloud options than any other

Allows you to set up automatic backup schedules for the ultimate convenience

Is faster, using up fewer server resources

1 million sites have tested this.
YITH Essential Kit for WooCommerce #1
It offers a huge collection of plugins. It is one of the best WordPress e-commerce plugins. Which are very handy, easy to install. Use these when you need; else you can deactivate when you're not using. Some of these plugins are Search, Zoom, Compare, Product Filter, Wishlist. There are more plugins available.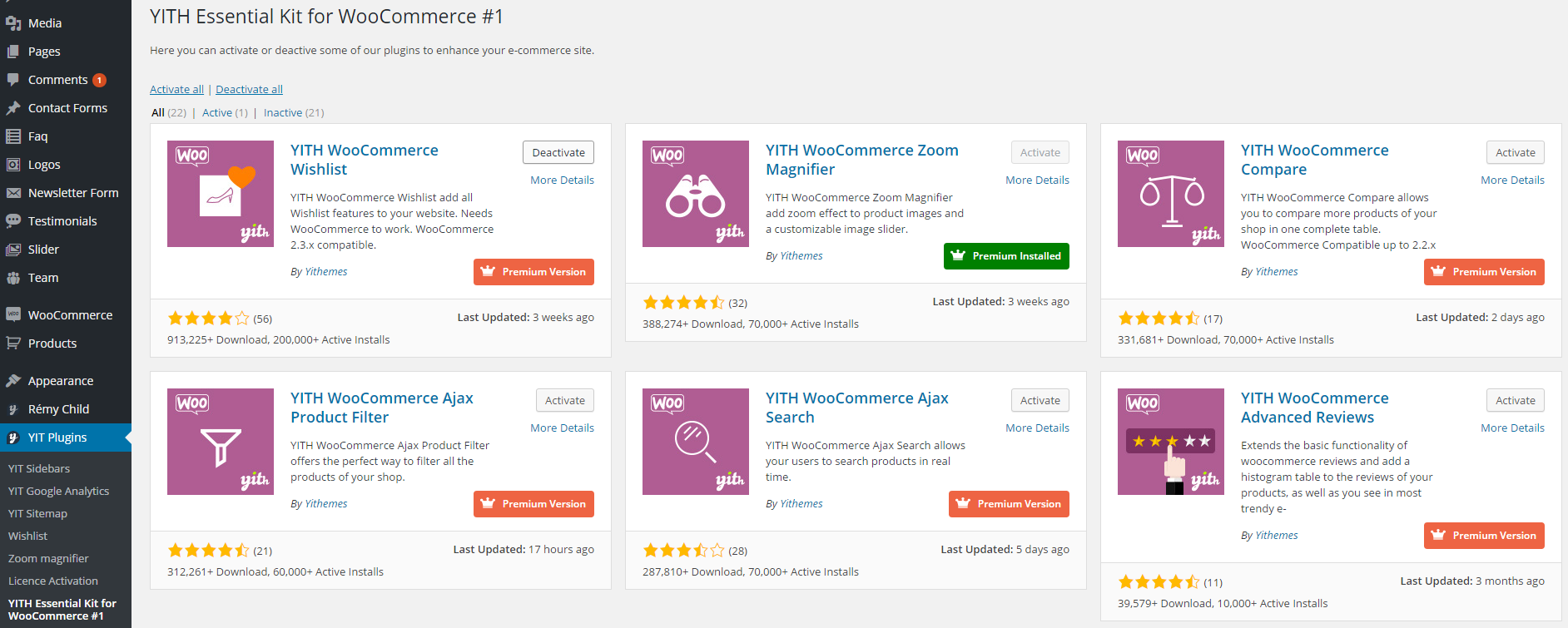 AnsPress – Question and answer
This plugin is one of the mostly used addon on WordPress for Q&A category. It has more than 4000 active installations and Tested with WordPress v4.9.10.
You can use it to create a Q&A network similar to Stack overflow and Quora, or be a single page on an existing site.

The plugin supports multiple languages, shortcodes, reCAPTCHA, email and push notification and more.

BugTracker, Company Internal QA board, support tickets, FAQ etc are also some useful features of this plugin.
 PixelYourSite
This plugin helps you Manage your Facebook Pixel or Google Analytics code with a single plugin and add ANY other script (Head & Footer feature). The Pinterest Tag can be implemented via free add-on.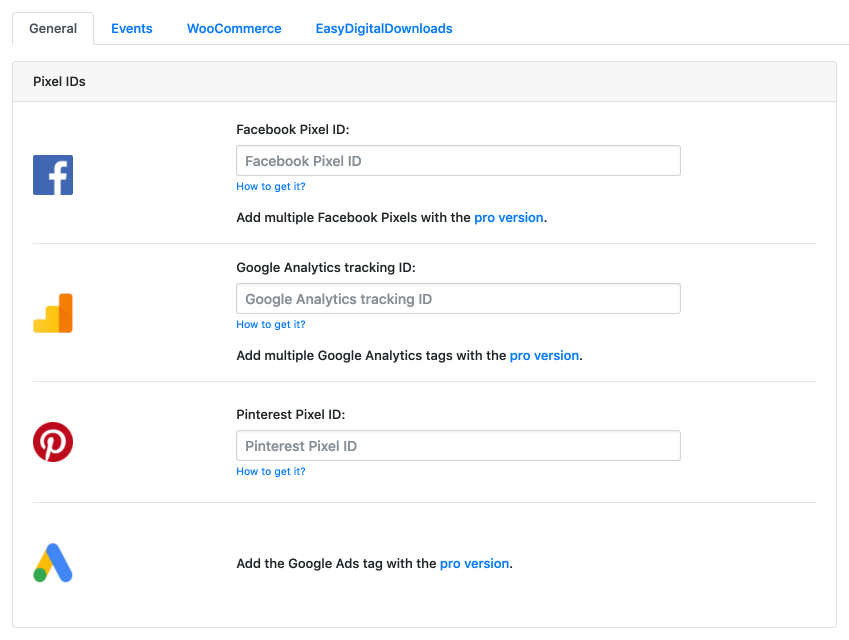 The plugin will automatically fire the Global Events and send them to all active pixels.

You can track visitors' activity, create Facebook Custom Audiences or Custom Conversions, Google Goals, Google Audiences, and Pinterest Audiences.

The General Event: It will send Facebook and Pinterest key data on how your users interact with your content. It's parameters will track things like the page title, category, or ID. Super useful for targeted Custom Audiences.

The Search event: fired when your visitors use the search form, it will track the searched string. WooCommerce searches will be Dynamic Ads ready, sending the product's ID to allow retargeting.

The Comment event: it will track comments.

The Download event: When the downloadable file is clicked. You can configure what file types should fire this event.

The Form event: When the Form is submitted.
Bonus Tool: Extra Fields For MailChimp Newsletter Discount
This plugin is for MailChimp users only. Most of the MailChimp users know that, MailChimp only provides two fields to gather data from the visitors, i.e. Name and Email. But with the help of this plugin you can create even more custom fields.
Gathering information is an important part for a Ecommerce website.

You can create as many custom fields as you want, like Gender, Profession, Date of Birth, Country, State etc.

The better you know your customers, the better you can target them.
So, we have covered all the 10 Best WordPress Ecommerce plugins for 2019 in this blog. We have tested these 10 plugins and found that these plugins can help you with your Ecommerce website.
Thanks for checking out the Best WordPress Ecommerce plugins for 2019. If you found this useful, then Share this on social media.
Also Read:
List Of Free WordPress Invoice Plugins For Your Website